This is the Atlanta Arsenal Texas saddle. It was issued in fairly large numbers to Western Theater Confederates.
The Jennifer Saddle. Somewhat unpopular because it tended to sore horse's backs'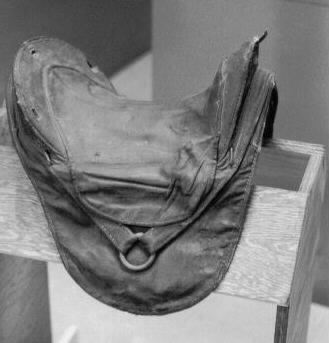 Enameled Cloth Saddle: D. J Howard Wert collection. Wonderful CS saddle reputed to be a post Gettysburg pick-up found along Seminary Ridge. Completely covered in several layers of enameled cloth with iron "driven-in" loops, tin mountings, iron triangular stirrup strap hanger, iron ring for saddle. I am aware of only three of these left in existence. Two in private collections the third at the Cavalry Museum at Ft. Riley, KS. For more information and photos of this pattern saddle see the book "Confederate Saddles and Horse Equipment" By Ken R. Knopp (see home page).